Active support of inspectors and dispatchers by means of automated person related telematics solutions from MOBIDAT's range of products.
Person-bound services in the operational service bring challenges of various kinds. Meet these challenges with security and an automated and web-based telematics system that keeps track for you.
The MOBIDAT product range enables you to plan and dispatch orders clearly and efficiently and to record activities.
In this way, inspectors can document and categorize route inspections and damage on the move. Not only the services themselves, but also the use of resources can be planned in a targeted and resource-efficient manner by using the person-bound MOBIDAT telematics solutions.
The control guidelines to be observed as well as the creation of evidence, e.g. for playground control, are carried out automatically and legally compliant through the use of the MOBIDAT system. A clear and complete documentation of the person-bound solutions secures you and simplifies your processes.
Organize your operational service and the associated services in a long-term and targeted manner with the person-bound MOBIDAT telematics solutions.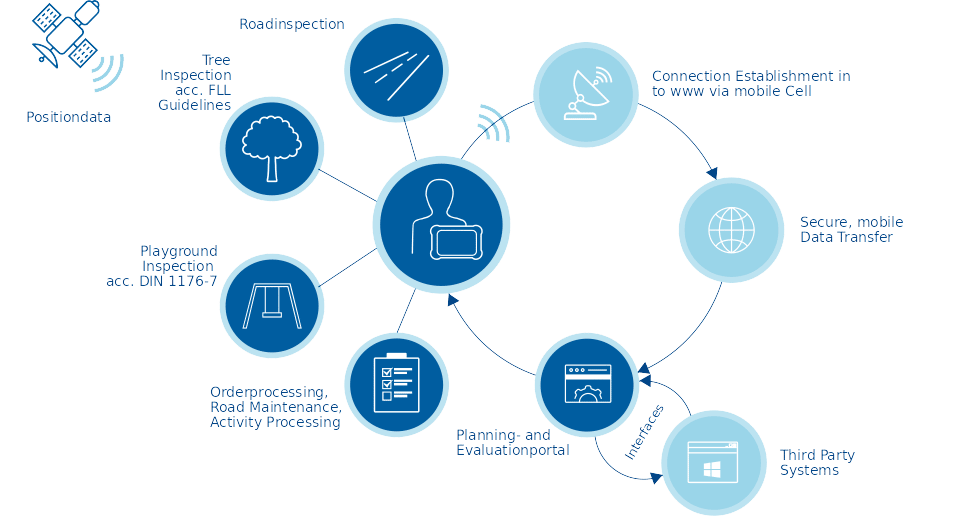 Tree Inspection
Rely on time-saving mobile tree inspection with simplified work planning and clear documentation aligned to the tree inspection guideline FLL 2020.
Section Inspection
Plan your use of funds both purposefully and preventively through intelligent, sustainable maintenance management including seamless documentation.

Order Processing
Smart job scheduling automatically records services and data during job processing, accurate to the location and time, including evaluation and the option to record data back.

Playground Inspection
Simplify playground inspection with guaranteed evidence according to DIN EN 1176-7 for your legal security by using intelligent telematics solutions.